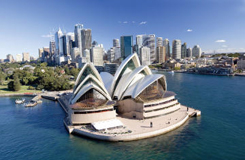 Suddenly, we had two weeks to spend in Australia (and two in New Zealand), and no idea of how to spend it.
I began to think that there was just too much country Down Under, and no way to see more than a fraction of it. I wanted to see Sydney, Ayers Rock, the Great Barrier Reef, and Brisbane. However, the distances in Australia are too great for driving unless you have a month. I was resigned to spending the time in Australia only seeing from Canberra to Brisbane (a tiny fraction of the coastline).
Then I stumbled across some tours that went from Sydney to Ayers rock to the Great Barrier reef. We also found a way to fly into Brisbane, then continue on to Sydney a few days later. Things were looking up.
Then we figured out what this tour would cost us. We could do it, but would have to skimp on certain luxuries, such as eating.
The lodging costs were just killing us; around $300 bucks a night, albeit for some VERY nice places. But we didn't plan on spending time in our rooms. I asked the agent to get us cheaper rooms, and she said, "No problem!" The next estimate had $270 rooms. I emailed her back and said, "You know the rooms with bugs in them? We want just one step up from that." She responded that she couldn't risk "compromising our travel experience that way." Fair enough.
Amy went out and booked all the airfare, lodging, and tours to give us the same essential trip, for about half of their price. Now I know that I NEVER want to be a travel agent, because it took Amy weeks to get all that stuff booked.
Anyway, we plan to be on our way in less than six days, stay tuned ...